"Journey" is a powerful motif in many of our human stories. In the tales we tell we often see ourselves as people in process; people on the way. Sometimes we know where we want to go but often we only have the vaguest notion of where we will end up.
Because life is a journey with zigs and zags, with mountain tops and valleys, with stormy days or peaceful nights, our best stories reflect on the meaning of where we have been, where we are going and where we find ourselves on the way.
Joseph Campbell studied Hero Myths from many cultures and taught us how this arch type functions – not only in our stories but within our lives individually and together as societies. The Hero's Journey brings transformation. Traveling into the unknown, experiencing and surviving the dangers, finding wider wisdom that puts our lives into perspective – this long walk of the Hero's Journey brings her "home" again; but the person who returns has become stronger, wiser and more resilient than the person who first began the journey.
"The Long Walk Home" i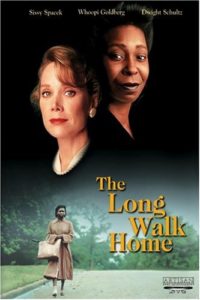 s a movie set in Montgomery Alabama during the bus boycott of the 60's. The title refers to the long miles Black housemaids had to walk to and from work when they refused to ride the city buses. But the second meaning alludes to the journey two women make together – one Black and one White – as they helped carve new paths for America during the Civil Rights Movement. Continue reading The Long Walk →