It's been months since I've written an Intersection blog and I'm feeling a bit guilty about that. There are several good reasons but there are even more bad excuses. At least something inside is finally strong enough to nudge me to write. I guess something inside me is needing to get out, to find expression. Maybe that's what writing does for us: it frees thoughts and feelings that are locked within us and allows them to take on a life of their own.
I have to admit the things locked up within me have been mostly negative. As I watch the antics of this president and his minions, the ineptitude of this Congress, the unfaithfulness of the American Evangelical Church, I realize I have been made speechless.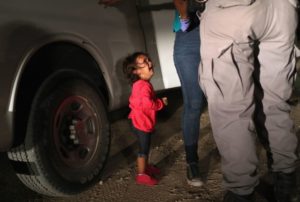 As I listen to the cries of the children and their parents at our southern border, I realize there are no words for such unspeakable wickedness and callousness.
But I am also coming to realize I have no excuse for remaining silent. It took me years to find my voice, to find my way into a pulpit. So now, having a voice, having the power to speak and the privilege of a platform creates a certain responsibility. Therefore I will remember those who have no voice, whose power to speak has been thwarted. I will honor those whose pain remains locked within them and whose cries for justice suffer a grievous stillbirth. Continue reading Speechless