A photo of this cap made the rounds in cyberspace not long after the 2016 presidential election.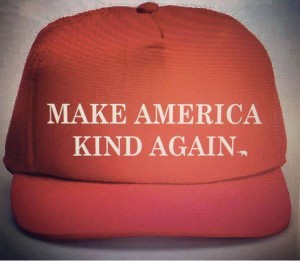 "Make America Kind Again" was the plea.
The campaign to be "great again" evidently resonated with enough voters in enough states that the Electoral College was tipped against the popular vote. So now we have what we have here in America – I would say: neither greatness nor goodness.
A Pandora's Box of ugliness has been opened in our society. Of course people have always been unkind to one another but just a few years ago, regular Americans seemed to have better manners. There was a common civility that helped us navigate our personal opinions so that – at least in public – we mostly treated acquaintances and strangers with a basic politeness.
That began to fall apart with accusations of "political correctness" so that saying things in such a way as not to offend others was perceived as a censure on MY ability to say whatever I wanted. MY rights were more important than any one else's feelings. Circumspection and kindness in our conversation were ridiculed as a weakness.
During the eight years that America had its first mixed race president, unkindness accelerated. Criticisms of any president's politics and policies are nothing new, but somehow too many Americans grew more comfortable believing and repeating rampant ugly untruths about this particular first family. America's shadow side of racism came boldly into the light.
Now, with our current president's life long habit of disrespect and derision, even more Americans have lost a habit of common public civility. Continue reading Make America Kind Again →