It wasn't until I was in seminary twenty years ago that I learned about our American civil religion. Like a fish that doesn't know it's in water, I had never seen all the ways our American patriotism has morphed into religious-like beliefs and behaviors. Now that I see it, I see it everywhere.
The concept of "civil religion" describes how a society marks as "sacred" some of its beliefs, symbols and rituals.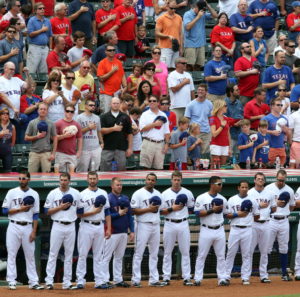 It explains why we place our hands over our hearts, remove our hats and stand in reverence in the presence of our red white and blue sacred symbol and our holy hymns.
Civil religion explains why it is so important to us to determine who belongs; who is in and who is out. Continue reading American Civil Religion. Yes, It's a Real Thing