People of faith have endured violence since the beginning of time. Maybe the main reason for this truth is that people in general have encountered violence for all of our existence; people of faith have never escaped that human reality.
The massacre at Sutherland Springs TX takes our breath away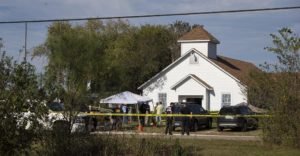 and we find ourselves grappling once again with the epidemic of gun violence that infects our nation. The mass murders of these people who were worshiping within their sacred space evoke our anger, our confusion and our deepest indignation.