I learned how to spell antidisestablishmentarianism in the sixth grade. I was so proud of myself. I can still spell it today although it is nowhere near the longest word in the dictionary anymore.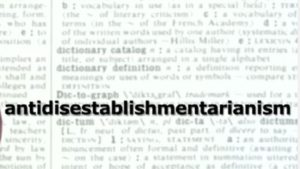 Of course I had no clue what it meant and I still have to unpack all the prefixes and suffixes when I think about this odd word all these years later. This word has come back to my vocabulary because Election 2016 has turned out to be a very odd turn in our nation's history and it demands some new vocabulary.
Some of my friends who voted for Trump say they were voting against the establishment. For a variety of reasons, they are anti-establishment, all for the undoing of the Establishment.
Dissing the Establishment.
Disestablishment. Continue reading Antidisestablishmentarianism