Dear Senator Cruz,
This is now my sixth letter, writing as a fellow Christian and considering some of the ways faith and politics intersect within our public life together. Faith can be a positive influence even within a secular society. Not religious dogma, certainly; religious doctrines can be divisive while spiritual, ethical and moral values can help us find common ground even with all our differences as Americans. In this letter, I want to address immigration from the perspective of our shared Christian faith.
Here is what puzzles me: your own family immigrated to America not that long ago. Even though your family came through legal channels, still your own personal o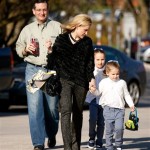 pportunities came to you because of the generosity of this good nation of ours. But now, even with this dream-come-true kind of experience, it seems you are committed to excluding many others who seek the American dream.
This attitude puzzles me on numerous levels. One, the simple incongruity of any person who has been given hope and help refusing to offer hope and help in turn to others. Is kindness to those who are less fortunate than we not a common decency? Is such grateful generosity not crucial to the healthy functioning of any society? We must not become a nation of takers; rather each of us must commit to give back from the grace and abundance we have received here in America. We must not become a nation of privilege; rather liberty and justice must truly be accessible to all. Continue reading Charlotte's Letter to Sen. Cruz on Immigration Reform